The 'V' in HVAC has never mattered more – How is your VENTILATION system running?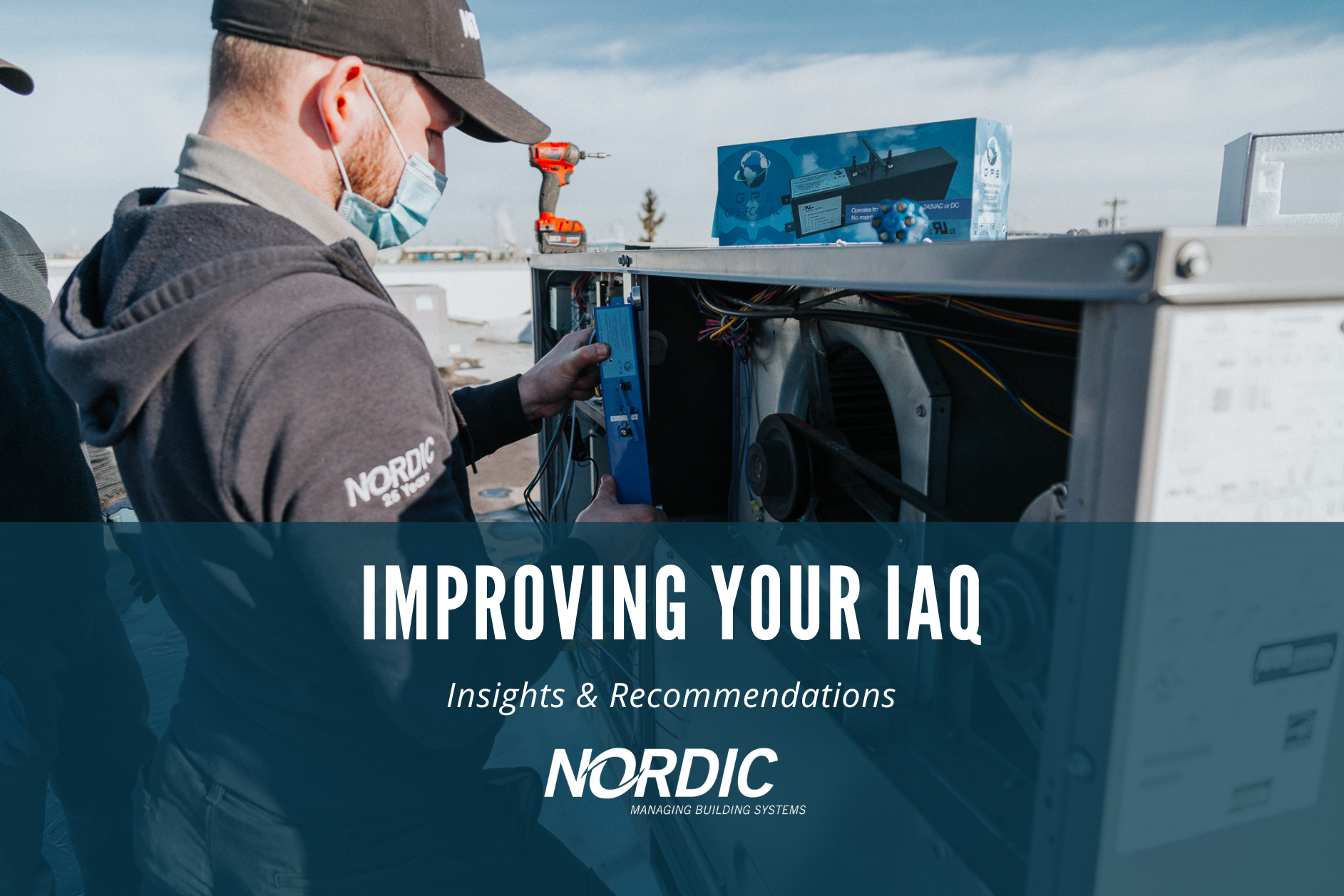 Ways to Improve Your Indoor Air Quality (IAQ)
Occupancy in buildings has changed considerably the past two years so whether your building is full or minimally staffed or unoccupied, the experts in our field and at Nordic Mechanical Services Ltd. have suggestions to reduce costs and improve your building's performance and environment so that your team members can work safely and productively. There is no magic to improving building performance, it really comes down to reviewing the following 5 building considerations and recommendations:
Filtration
Proper Ventilation
Maintained Mechanical System
UV Lighting and Global Plasma Solutions
Strategic Partnership
Filtration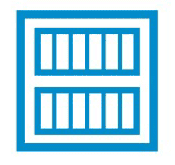 Proper filtration helps clean outdoor air as it enters your building. Right now, what is recommended is replacing your current filters with MERV 13 rating high efficiency filters as long as your system can support them. The Standard recommended filter for proactive maintenance in the industry is a MERV 8. Upgrading to a MERV 13 filter allows for excellent filtration and reducing odors and air contaminants for sensitive environments while keeping within allowable static pressure drop parameters. What is a MERV rating? It stands for Minimum Efficiency Reporting Value. The scale is 1-16 and it is how effectively your filter will trap the particulates in the air through your HVAC system. Please see below for MERV ratings.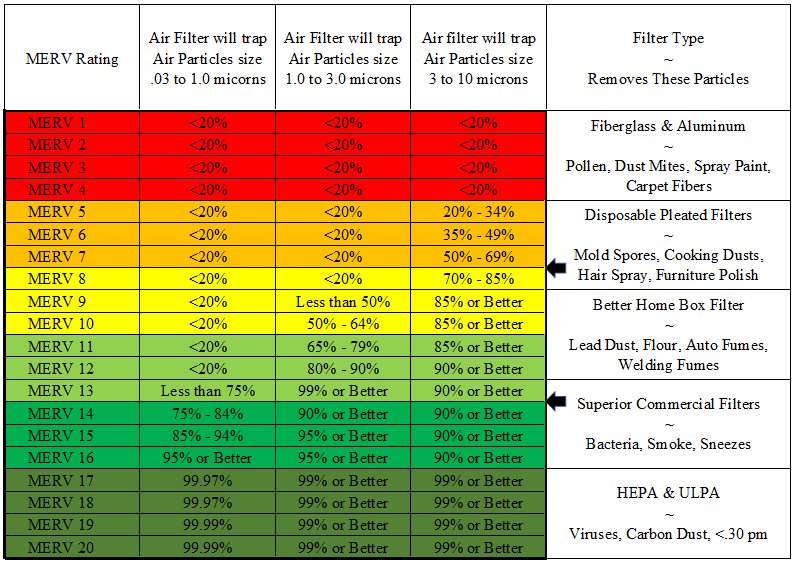 Proper Ventilation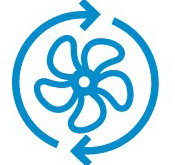 Proper ventilation systems bring in clean outside air and exhaust polluted indoor air in order to remove or dilute it and therefore increasing the IAQ. In accordance with ASHRAE's standards and codes, there is a minimum amount of outdoor air that should be supplied to a building in order to achieve good IAQ (ASHRAE 2016a). These rates change depending on the number of occupants, size of the area, and use of the area. It is important to have a strategic partner to help ensure proper ventilation in your building and it is working as efficiently and effectively as possible.
Clean Mechanical System
Wiping down all equipment surfaces with the appropriate disinfectants, dry duct cleaning, coil cleaning, changing and possibly upgrading your filtration system if it is feasible are a few examples that can help your ventilation system's performance. Building operators or service professionals servicing the system should be wearing proper PPE which may include gloves/masks/eye protection when working with this equipment, also disposing of the old and dirty materials properly and appropriately is recommended.
UV Lighting & Global Plasma Solutions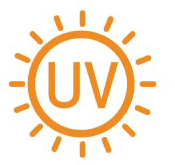 There have been a lot of questions around different applications to help with indoor air quality…one of them being UV Lighting. UV Lighting is an effective technology that helps improve indoor air quality by reducing unwanted air borne contaminants in sensitive building environments.
It can be highly effective to help disinfect the air that passes through your HVAC system. What we'd do is install UV Lighting in the ductwork, parallel to the flow of air or mount it on the coils. These portable units are typically installed in clean labs and surgical rooms.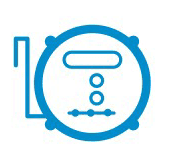 Ionization technology is a sophisticated technology that reduces airborne particles through a mass collection process (agglomeration).  The way it works is the ions attach to the airborne particles making the particles attracted to one another which will increase their mass and size. This makes it easier for your filtration system in your HVAC to easily capture the larger particles. More importantly, this technology can steal away the hydrogen from the pathogens, leaving them to die, leaving you with cleaner and healthier air. Please see below for more benefits of GPS.
GPS Delivers P.O.P.E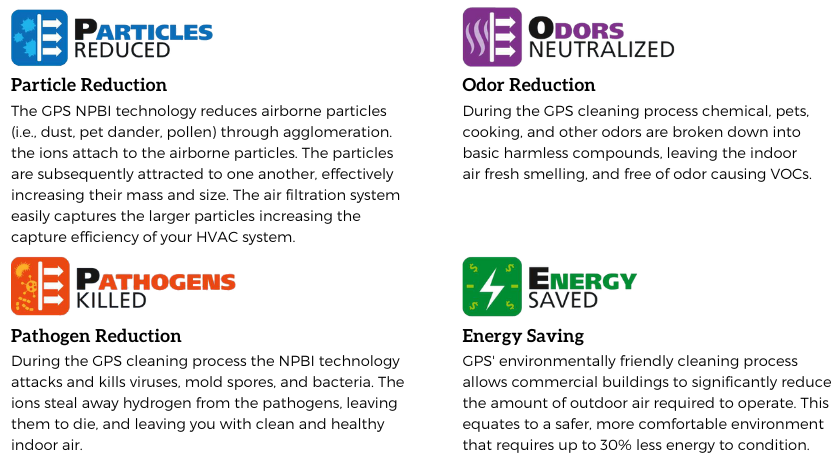 Strategic Partner
Having a strategic partner is vital in buildings nowadays as mechanical systems are more sophisticated and intricate.  The Nordic family consists of over 100 highly skilled professionals with dozens of years of experience in making buildings work. With that stated it is helpful to have an invested service professional assigned to your site for your regular proactive maintenance visits as they can be instrumental in understanding your building with all its nuances and quirks. It is more cost-effective and in these times it reduces the number of variables entering your building. A strategic partner not only assigns designated personnel to look after your building mechanical systems but can also help with risk mitigation, capital planning, applicable grants and funding, project ROI and so much more, all the while helping you increase profitability, mitigate any capital exposure and ultimately help reduce your bottom line.
Reach out to Nordic to get started on improving your indoor air quality today and have your employees and customers enjoying the peace of mind of a safer and cleaner environment!
Resources:
ASHRAE (2016a) "Standard 62.1. Ventilation for Acceptable Indoor Air Quality." American Society of Heating, Refrigerating and Air-Conditioning Engineers.