The Importance of Boiler Maintenance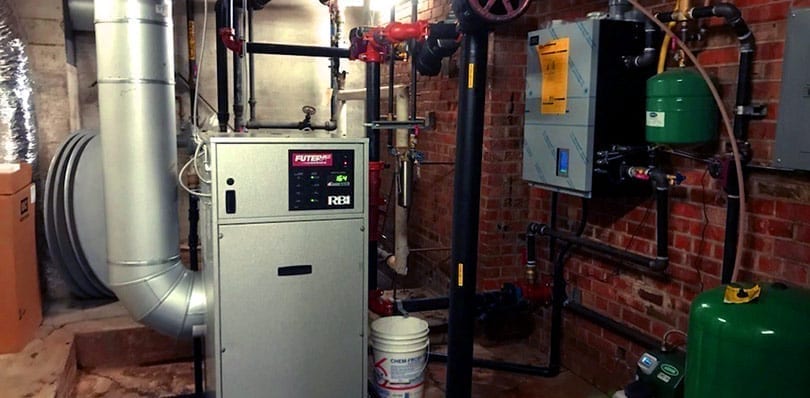 Boiler maintenance is crucial in order to maintain efficient operation of your boiler and hydronic systems. As the seasons change, you may experience issues with your boiler. Oftentimes the issues that arise are preventable by having a preventative maintenance plan to support and understand your boiler's needs. More often than not, the small, noticeable problems occurring on a site are due to a much larger issue – for example, pinhole leaks can be due to a lack of water treatment. Our goal at Nordic is to get to the root of the problem to avoid further damage and unnecessary costs.
Most commercial boiler systems are one of these 3 types:
High efficiency condensing boiler
Mid efficiency near condensing boiler
Conventional natural draft boiler
Once you know the type of boiler your facility has, you then can determine the type of maintenance required. The higher efficiency of the boiler, the greater amount of maintenance that is required to maintain efficient operation. Every boiler manufacturer has required specifications for maintaining their boiler, and following those procedures will keep your boiler operating at peak performance. There are many similarities between boiler manufacturers, but our service professionals can guide you in choosing the proper maintenance required for your boiler.
Common Boiler Issues
Leaks
Water or glycol quality
Improper flow
Improper pump size
Improper or lack of water treatment
Plugged heat exchanger
Gas pressure issues
Lack of combustion airflow
Improper installation
Commissioning issues
Lack of expertise
Chimney issues, wrong size
Solutions to Common Boiler Issues
Ongoing and regular preventative maintenance
Proper technical experience
Gas A Ticket who can look after the system and its controls
Proper water treatment schedule
Annual boiler teardown
Understanding the boiler application and usage
Regular, preventative maintenance to ensure your boiler is working properly can ensure system longevity, little to no repairs or downtime, and can also result in up to 30% improvement in energy efficiency. This means that the initial upfront cost of maintenance will pay off in the long run. Interested in having a Nordic service professional evaluate your boiler? Our team evaluates the equipment you have in use and will recommend the best maintenance plan for your system. Click here to book your consultation today.