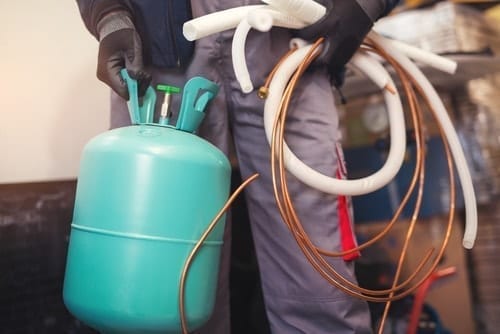 What is R-22?
R-22/HCFC-22, also known as  is a hydrochlorofluorocarbon, is a refrigerant that is used in air conditioning and refrigeration equipment. R-22 was once commonly used as the refrigerant in air conditioning units for buildings, homes and refrigeration equipment.
Why Should I Phase out R22?
When R-22 (hydrochlorofluorocarbon) interacts with the sun's rays it produces chlorine, which is extremely harmful to the environment. The emissions from R-22 have been proven to contribute to the depletion of the ozone layer. In 1987 the Montreal Protocol on Substances that Deplete the Ozone Layer was put into effect, which prompted the phase out of R-22 and several other dangerous emissions from greenhouse gases. Most industries have done a good job of removing R-22 from their products, but if you own a commercial building or residence you may have an air conditioning unit that still contains R-22.
How Do I Know If My HVAC Unit Uses R-22?
The best way to check whether or not your AC unit is running R-22 or another type of refrigerant is to determine which year the unit was built. Generally if it was built before 2010, it is very likely that your unit still runs on R-22. If the unit was built after 2010, it is likely running on a newer refrigerant that is less harmful due to the banning of the production and importation of R-22 equipment in 2010. If you don't know when you're A/C unit was built, you can confirm which refrigerant is used by looking at the nameplate on your unit. Book your complimentary assessment here.
Caption: Contains HCFC-22
My HVAC Unit Runs on R-22 - What are My Options?
If your current HVAC unit uses R-22, there are a few things you can do:
• Get a Modern AC Unit. The best option would be to get a new unit that uses an EPA approved refrigerant. The most common alternative to R-22 is R-410A. This way you don't have to stress about hazardous chemicals in your home or building.
• Retrofit Your Current Unit. Retrofitting your current unit so that it can operate using a different refrigerant is another option as well. This is likely a cheaper option, rather than purchasing a brand new unit, however, if it is nearing the end of it's lifespan, a retrofit won't necessarily extend the lifespan. This can be a risk if you put money into modifying a unit that will likely break down in a few more years anyway.
• Regular Maintenance. Technically if your HVAC unit isn't broken you don't have to take immediate action, however it is recommended that you look after your system proactively. Since R-22 is being phased out, the system will inevitably have to be replaced eventually.
Effective January 1, 2020 R22 Import and manufacture of products containing any HCFC are prohibited and Some activities will be restricted to used, recovered, recycled or reclaimed (URRR) HCFCs under permit, soon R-22 won't be available in any capacity, Effective January 1, 2030 Complete phase-out on import and manufacture of HCFCs.
How We Can Help
Nordic Mechanical Services Ltd. proudly services all of your HVAC needs. Contact one of our experts today to answer any questions you might have about R-22 or to schedule a complimentary assessment today.